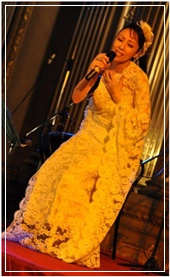 Anna visited Buenos Aires to celebrate the Argentinean bicentennial under the auspices of Japan Foundation from May 23rd and began a series of performances that have been mentioned in previous articles.
On June 6th, she performed at El Salón Dorado in Casa de la Cultura (Ministry of Culture) on May Avenue in the city. 
I was invited to the concert, but the subway I took broke down and halted on the way.
I couldn't get off the subway because it was stuck between stations underground.  Even though the train moved slowly, I was stranded inside for half an hour and forced to get off at the next station.  I tried to hail a taxi and there were bunch of people waiting as well.  When I finally arrived at Casa de la Cultura, Anna's recital had just ended.  I was only mildly disappointed to miss her recital because
I'd seen her performance every time she visited Buenos Aires.
I decided to wait for her after the show to say hello.
Then, the Argentinean audiences came down the stairs.  
I was surprised that a middle aged woman coming at the forefront recognized me as Japanese and must have immediately connected me to Miss Saeki's performance, because she embraced me tightly and shouted "EXCELENTE!! EXCELENTE!!" ("Excellent!!") 
As if that was a signal, another woman put her hand on my shoulder and repeatedly called "MARAVILLOSA, REALMENTE MARAVILLOSA!!" ("Wonderful, really wonderful!!")  Also, a middle-aged man offered me a handshake and shouted, "JAPON PASO A LA ARGENTINA!!  MAGNIFICO!!" ("Anna sings songs better than Argentinean!!  Magnificent!!")  Those were clearly praises for Anna's performance. 
However, the praise didn't end.  The rest of the Argentineans came down the stairs and shouted, one after another, regardless of age or sex, "EXCELENTE!!  MARAVILLOSO!!  MAGNIFICO!!  ESPLENDIDO!!" ("Excellent!! Wonderful!! Magnificent!!Splendid!!") They hugged me and shook my hand as if I were the singer.  It continued until the last person came down the stairs; by this time I was stunned, and could only repeat "GRACIAS, MUCHAS GRACIAS." ("Thank you, thank you.)"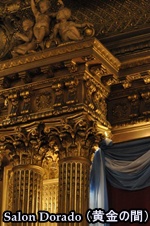 I've heard Argentineans praise singers from Japan before, but the praise for Anna was remarkable.  Every audience member called out to me one after another, even though they knew I wasn't the one on the stage. 
I felt  their praise was not mere flattery,but that the audience was truly and honestly moved by Anna's performance. 
It was unfortunate that Anna herself wasn't there. 
I was truly glad that Anna's singing touched the Argentinean people, and for a moment I felt the appreciation that Anna must feel after a show.  Anna's singing has enriched the culture of the Japanese-Argentinean society. 
I forgot the chagrin of being late for her recital and I thought,
"Thank you, Anna, thank you."

Takagi (La Plata Hochi)